Periodontal disease in dogs and cats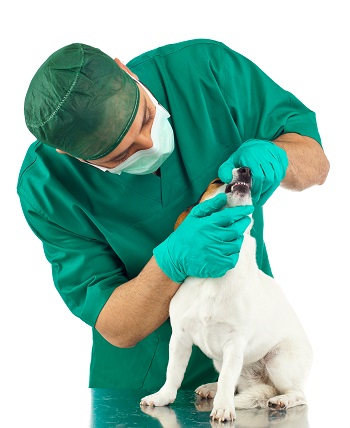 Dental Care
"My dog/cat has bad breath!" This is probably one of the most common complaints vets hear from pet owners. Halitosis (bad breath) can be caused by many things, but is most often related to dental disease.
Nowadays pets are part of the family. They sit next to us on the couch when we watch television, they sleep with us in our beds and we even take them on holiday – they are practically human! This means we take better care of them and they therefore live much longer. Fortunately, as a result of this close relationship, we notice problems like bad breath much earlier (one cannot help but smell something if you share your pillow with a furry friend) and we can do something about it so much sooner.
The infallible flea
Fleas
Fleas are the most common pests on our pets. The immature stages (larvae, pupae) can survive for a long time in crevices, sofas, dog beds and carpets, just waiting for the right circumstances (e.g. heat, humidity) to hatch and cause mayhem. Then they not only irritate our pets but can also cause discomfort in humans. Many people will tell you that getting rid of a flea infestation in your home can be quite difficult and costly.
The no-good, the bad and the ugly
Worms
Few people can hear the word "worms" without cringing – especially if it is related to a beloved pet. Unfortunately, parasites living in the stomach and intestines occur all too common in our dogs and cats. These parasites live in the digestive tract, causing damage and robbing your pet of much needed nutrients. The amount of damage they cause depends on the type and number of worms your pet has.
Tiny but deadly
Ticks
Living in a warm and sunny country is great, but with it comes all the parasites and diseases associated with a warm and/or tropical climate. One of these little scourges can be found nearly all over South Africa, namely ticks. Most people have at some or other time encountered a tick on their pet. This can be quite distressing – especially if you consider a disease like biliary (tick fever).