Seasonal allergies in pets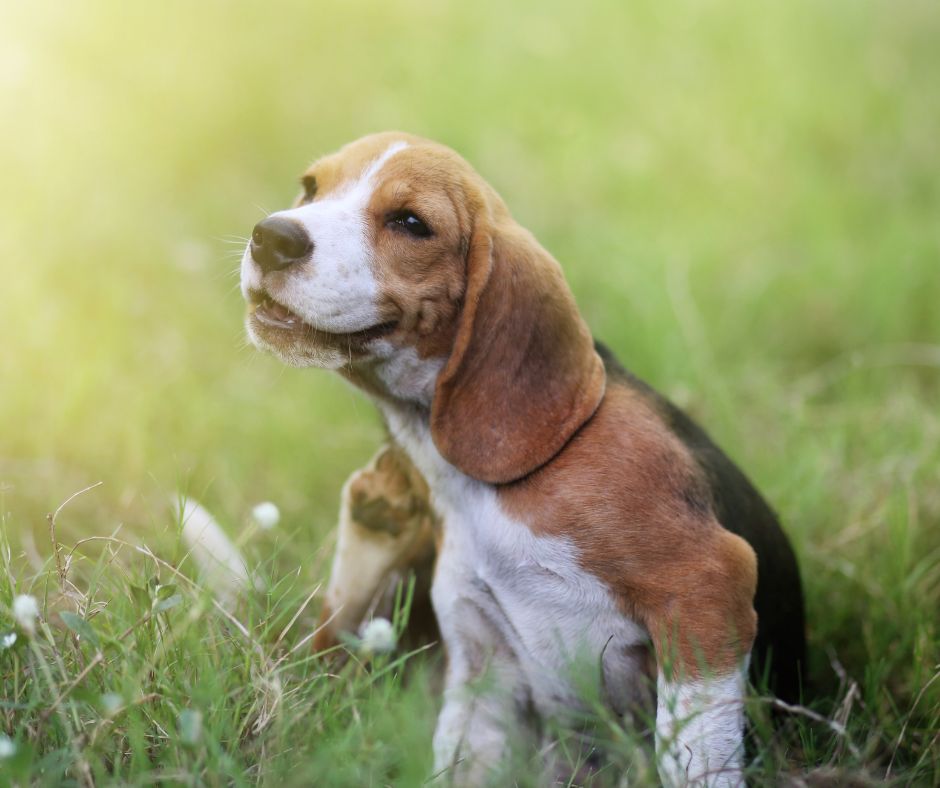 My dog is scratching and biting his skin more than usual, sneezing and has watery eyes – and it's only the beginning of the season!
All domestic animals can react to the changes of the season – just like some humans do. During late winter, early springtime, when the climate is dry and windy, there is a lot of dust and pollen in the air. Humans as well as our pets inhale these particles or pets brush up against skin irritants, which can lead to seasonal allergies.
Understand the life cycle of fleas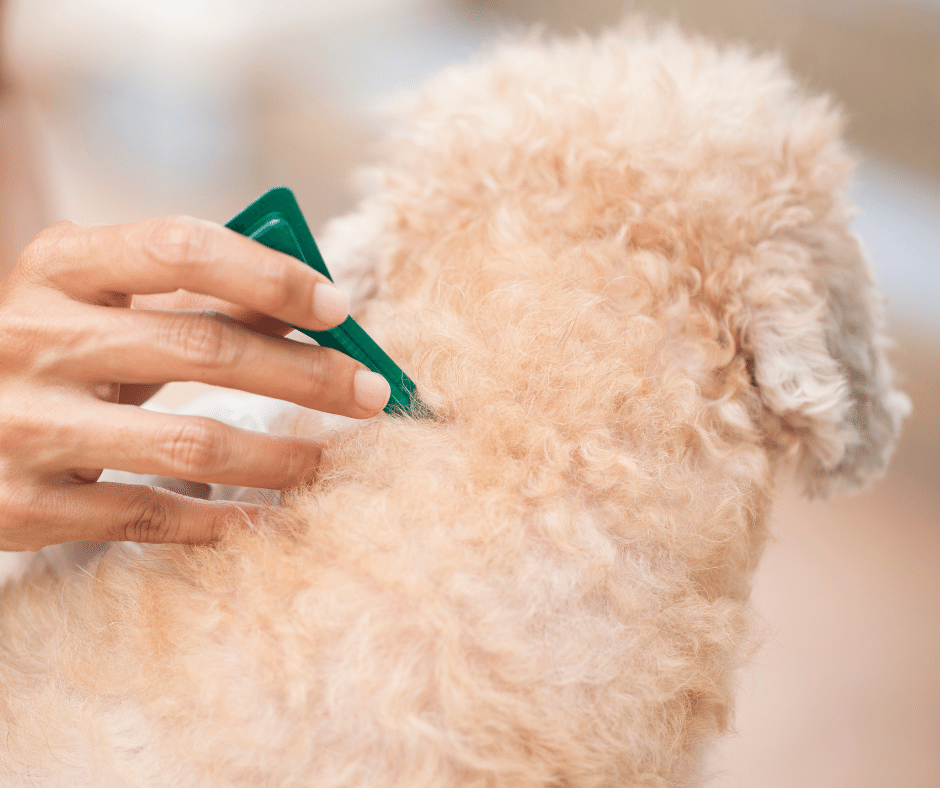 How can I get rid of my pet's fleas once and for all?
Tick and flea treatments for our pets promise quick and lasting results and are usually very effective when administered correctly. However, these treatments – including chews, spot-on liquids and collars – may not be able to get rid of flea infestations completely when pet owners don't tackle each stage of the flea's life cycle head-on. Understanding the life cycle of the flea is the key to eradicating this nasty pet pest.
Eosinophilic granuloma complex in dogs and cats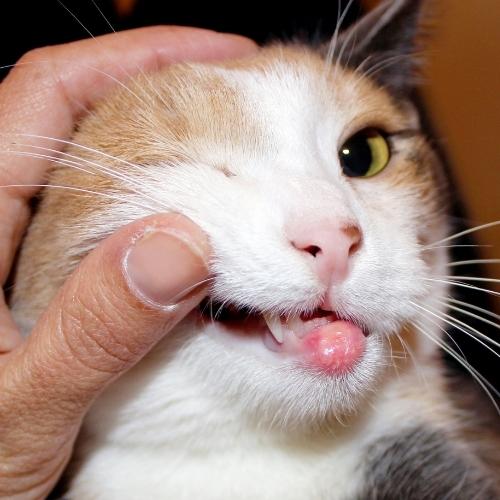 My cat has a strange sore - almost like a fever blister - on her upper lip
What is eosinophilic granuloma complex?
Eosinophilic granuloma complex (EGC) is a disease complex that presents in three main forms, namely an eosinophilic ulcer (also known as a rodent or indolent ulcer), an eosinophilic plaque or an eosinophilic granuloma. These conditions are more commonly found in cats and horses, and only occasionally in dogs.
My pet lost a patch of fur and developed a massive sore overnight. It looks like a burn wound.
Hotspots (Acute moist dermatitis or moist eczema)
Acute moist dermatitis is a skin ailment in pets that's caused by a trigger like an itch or pain, and exacerbated by the pet's scratching and licking until it becomes a large bare patch of painful skin lesion. Since the lesion is an open painful wound, it's referred to more commonly as a hotspot.
Acral lick granuloma
My pet does not stop licking his leg and has a huge sore where he licks
When a pet owner brings their animal in to the vet with a firm, raised, angry red bump on the pet's leg or ankle, complaining that the animal (a dog more often than a cat) won't stop licking at it, the vet knows that there is a potentially long road of diagnosis and treatment ahead. The symptoms and behaviour described here are common in what's called acral lick granuloma.
I found a lump on my animal's skin. Is it cancer?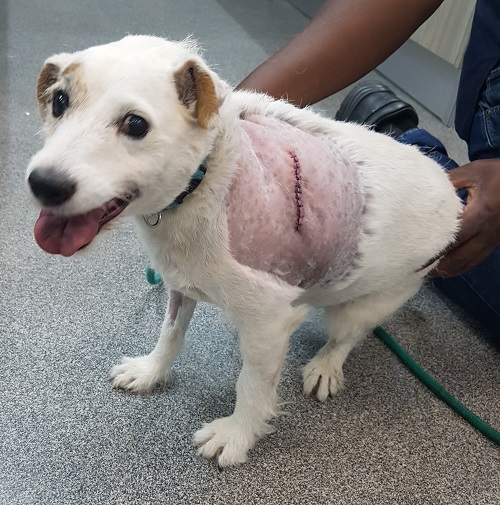 Lumps and Bumps in your Pet
Finding a lump or a bump in your pet which you have never noticed before, can cause serious worry for pet owners. This article will highlight what to watch out for when to take your pet to the vet and the process veterinarians follow when approaching any lump found on a pet.
Firstly, it is always important to remember that you can never tell how serious a mass on your pet is by simply feeling it and judging by its size. Dynamite can often come in small packages and some of the most aggressive skin cancers may present as a simple small raised area on the skin. Generally, lumps on a cat tend to be more dangerous and they are not something to be ignored. All growths have to start small but may grow very rapidly. Lumps come in all shapes and sizes and for that reason, it is always best to get any lump on the skin or underneath the skin checked by the veterinarian as soon as you discover it. This will provide peace of mind to you as an owner if it is simply a dermal cyst or a small wart-like growth, both of which will not cause any major health issues for your pet. Alternatively, if it is something more aggressive and dangerous, it is always better to start treatment as soon as possible. If it is determined to be a bad type of growth (malignant), the sooner it is diagnosed the better the prognosis for both removing it surgically or starting any other form of treatment.
My Boerboel with its long tail really looks strange. I much prefer a Boerboel with a short tail.
Tail Docking in dogs - Why we as vets do not routinely do it anymore
To start off with let's define what we are talking about when we are talking about tail docking in dogs.
Tail docking from a veterinary perspective refers to a surgical procedure done to puppies between the ages of 3 to 5 days old, where a portion or partial length of the tail is amputated or cut off with a scalpel or surgical scissors, bleeding is stopped by cauterisation or tying off of bleeding blood vessels with absorbable suture material, and placing a suture or sutures in the skin to close off the wound.
Is Tick Fever and Tick Bite Fever the same disease in dogs?
Erlichiosis (Tick bite fever) in dogs
It is not. Tick fever or Babesios in dogs, is not the same disease as Tick bite fever or Erlichioses. Both diseases are transmitted to dogs by ticks, but they are caused by two totally different organisms or parasites and the clinical signs, progress and treatment are very different.
To further confuse the matter, Tick Bite Fever in humans is not the same as Tick Bite Fever in dogs and once again, although transmitted by ticks, is caused by a complete difference parasite. Tick Bite Fever in dogs is not transmissible to humans or vice versa.
My cat has pimples!
Feline Acne
Feline acne is a common skin condition in cats. Cats of any age can be affected, and there is no breed or sex predisposition.
Cats are often presented to the veterinarian with the complaint of 'dirt on the cat's chin, that the owner cannot remove after attempts to clean it' or 'bumps on the cats chin'.
How does feline acne develop?
Hair follicles on the chin become blocked with secretions from small fat glands called sebaceous glands in the skin. This gives rise to multiple blackheads otherwise known as comedones on the chin, giving the chin the so-called 'dirty appearance'. These comedones may also be associated with small red blisters or pimples and crusts on the surface of the chin.
Can I treat my pet's wound at home?
Wound Care at Home
When managing wounds at home it is important to always contact your veterinarian for assistance. Many home and even human wound remedies are not suitable for use in pets. Determining factors in deciding whether a wound can be treated at home or needs veterinary care includes the severity and age of the wound, the cause and location of the wound, and most importantly if the pet is leaving the wound alone. In most instances the safest and most effective way to deal with it is to take the injured pet to the veterinarian for initial treatment and advice on continued care at home. In this article we will go over some of the major components of wound treatment and care as well as giving you guidelines on when to visit the vet.