Requirements and process of emigrating with pets
I have been offered a great job overseas, but I have pets. What is the process for emigrating with my pets?
If ever there was an occasion to test the bond between pet owner and beloved pet, it's emigration. Moving overseas is a huge, stressful event that may feel overwhelming and nearly impossible… and that's before you've even factored in your furry family members. However, with enough time and planning, ensuring you follow the correct protocols and stick to the regulations, you can successfully move yourself and your pets overseas.
Veterinary etiquette
What you should know about taking your pet to the vet
If you've noticed that your pet's behaviour is off or they are showing worrying symptoms, don't hesitate to call the vet and schedule an appointment. However, this is just the first step in your responsibility towards your pet and in dealing with a veterinary practice. Your pet's condition may cause you to act emotionally or to forget important symptoms or information.
How that cute puppy came to cost you R 150 000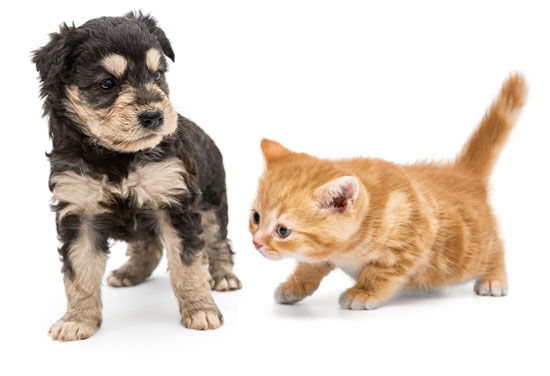 The true cost of owning a pet
We are approaching that time of year when people are considering what to gift people for Christmas and as is often the case, a cute puppy or kitten comes to mind. Many people do the noble thing of going to a shelter or a welfare organisation to adopt a puppy or kitten for a mere R 650. What they fail to realise is that that cute puppy or kitten is not just a R 650 worth purchase but more likely a R 65 000.00 one, or in some cases up to a R 150 000. How is that possible or what do you mean, you might ask?
From Kitten to Cat
Kitten Behaviour
Tiny fuzz-balls of cuteness - the perfect description for every kitten. We cannot resist them creeping into our hearts.
You have brought your new kitten home and realise it is dependent on you for its every need. For the kitten, the world is huge, brand new and can be a bit scary. Every sight, sound, smell, person and animal are a new experience. These first experiences are likely to influence their future behaviour.
My dog is really getting old
Geriatric dogs - The senior years
Taking your elderly dog to the vet for an annual check-up can sometimes feel like a waste of time and a big inconvenience to the pet involved. The stress involved and the difficulty of transporting a big elderly dog, which is not so mobile anymore, may make you wonder if it is really necessary. The answer is a very big YES!
At what age exactly are dogs considered geriatric? You may find different views on the internet and as with humans, it does depend to a large degree on the individual animal. Some humans are sprightly and active at age 75 and others are tired and sickly at age 60. The same applies to dogs but there is a general consensus that small breed dogs generally have a longer life span than medium and large breed dogs. Giant Breeds are considered geriatric at the early age of 6 to 7 years, whereas breeds are only regarded as geriatric when approaching ten to twelve years of age. The aim of an annual check-up for an adult dog is not just to update the vaccinations, but to give the veterinarian an opportunity to evaluate the dog's general health and pick up any problems that might have gone unnoticed by the owner. The broad generalisation is that for each one year a human ages, a dog will age the equivalent of 7 years. If you look at it in this light, it will make sense that in older dogs, regular check-ups, as in humans, are vital. The vet will also ask the owner a series of questions to establish how the animal is doing at home. Things to start looking out for when an animal gets older is a loss of appetite, losing weight, struggling to get up and move around, as usual, drinking and urinating more than usual, and general signs like vomiting and diarrhoea.
My cat is really getting old
Geriatric Cats - The senior years
Due to improvements in nutrition, veterinary and home care, cats are living a lot longer than they did twenty to thirty years ago. In the past when a cat reached the age of 13 years old, we believed them to be really old. This is definitely no longer the case. We see several cats that are now reaching ages in excess of twenty years. Cats also tend to age a lot more gracefully than dogs and so it is not always easy to tell when they are starting to struggle or are showing signs of illness.
Help! My pet has just drank some Anti-Freeze
Ethylene Glycol Toxicity
Winter has arrived and many people, as a precautionary measure, are putting antifreeze into their cars' radiators, to prevent the water from freezing.
Ethylene glycol is the main ingredient found in antifreeze. Antifreeze is not as commonly used in South Africa as on other very cold parts of the world, as we do not get the very cold temperatures found in some parts of the Northern hemisphere. It is however found in many other products, which are found in South Africa. It is found in lower, less harmful concentrations in hydraulic brake fluid, solvents, motor oils, paints, film-processing solutions, wood stains, inks and printer cartridges.
My dog seems sore in its front leg
Elbow dysplasia in dogs
What is elbow dysplasia?
Elbow dysplasia is the collective term that describes a number of conditions that affect the growth and development of a dog's elbow. It is most commonly seen in large and giant breed dogs. Labradors, Golden Retrievers, German Shepherds and Rottweilers are the most common breeds but it can occur in any breed. There are a number of different theories as to why elbow dysplasia occurs but it is often a combination of factors, which leads to the abnormal development of the joint. Defects in cartilage growth, trauma to the joint, genetics, exercise and diet may all play a role in the development and progression of elbow dysplasia.
My puppy is trying to chew the cord of my laptop charger
Electrical Injury in our pets
Although this may sound like a very unusual topic to discuss it is something that happens far more frequently than we would like. The most common reason for our pets to get electrocuted is chewing on electrical cords. In general the age groups affected in both cats and dogs are approximately 2 months to 2 years of age - the young and the curious. During this phase of their development they tend to be curious about the world. Teething and growing creates the perfect atmosphere for chewing anything in their path. The incidence of electrocution can often coincide with the festive season with all the decorative lighting being put up but for most of us who work with a laptop from time to time and has to plug it in to charge, this could pose a risk for our pets.
My pet is battling to pass a stool
Bowel movements - a serious situation
Ever notice your dog or cat in a hunched-up position either in the garden or in their sandbox and just not being able to "come right" with passing whatever it is they want to pass? In cats and female dogs, the posture of the animal when passing stool and passing urine is the same. It is therefore important to try and establish whether they are battling to pass a stool or alternatively if they are struggling to urinate. Both conditions may require veterinary attention and if the animal repeatedly hunches and strains with no apparent relief, it may be a sign that they need to see the vet.